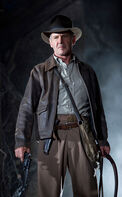 Dr. Percy Freeman
Character information
Gender

male

Born

1910

Age

43

Status

living

Home

Tallahasse, FL

Allies

Dr. James Holmes, Dr. Frederick Youngsten

Enemies

Germans, Russians, Ukrainians, Norwegians, Japanese

Notes

professor at Boxford University who does whatever he can to get artifacts into the mueseum from foreign and dangerous countries.

Portrayer(s)
<span class="content-bg rbottom" style="background:
"></span>
Florida Freeman Archaeologist at Boxford University in Jackson, MS
Ad blocker interference detected!
Wikia is a free-to-use site that makes money from advertising. We have a modified experience for viewers using ad blockers

Wikia is not accessible if you've made further modifications. Remove the custom ad blocker rule(s) and the page will load as expected.